Bush has been bet, fruit has fallen, leaves have died. This is an article about Aaron Lennon  and Andros Townsend.
Traditional Wingers vs. Inverted Wingers
I believe both are of equal ability at what they do but what they do is different. One is more advantageous than the other. This is why.
Traditional wingers are a dying breed.
In the old game, a wingers job was to get in behind the defense and cross for the striker to score. One of the best wingers to ever wear the Spurs jersey was Cliff Jones. Though he was before my time I have heard about him. He was natural left footed. He was ambidextrous, truly two footed. In his time as a Spurs player, he scored 135 goals. The vast majority of his goals came when he cut in from the left and rifled a shot into the net. Even when traditional wingers were the motif in football, inverted wingers were always head and shoulders above them.
The same is true today.
The best wingers are always inverted wingers. It isn't necessarily because they're more talented.
A traditional, to-the-byline winger is only ever passively searching for the ball, only ever passively impacting on play. A traditional winger is, by design, a touch-line hugger.
An inverted winger is constantly searching for the ball, constantly trying to get involved in play because they can. they aren't shackled to the touchline. 
Involvement, the greatest asset of an inverted winger.
A player's output is based off of two variables, how much they are involved and how much they do when they are involved
A traditional winger is only sporadically involved in play, by design. That is fine with me. I'm never going to play a player for the type of player  he is. It's like blaming Jan Vertonghen for not being a striker.
But that's as an aside.
We have one of the best traditional winger in the league in Aaron Lennon. However you can be the best winger in the world and you won't have the same impact on play as an inverted winger. This is because you simply aren't involved in play as much as an inverted.
Felling with a blunt axe
Even when a traditional winger is involved, it is so easy to defend against simply because it's so monotone. You know from the moment Aaron Lennon receives a ball what he's going to do. He's a head-down, hell-for-leather speed machine. To stop a traditional winger, all you need to do is sheperd him to the byline and either block the cross or let it sail onto the head of your centre back (Soldado or Defoe aren't winning any headers any time soon). Either way, we're not going to score many goals this season with a traditional winger
To substantiate; here is Aaron Lennon's passing chalkboard in the game against Crystal Palace:
We can see in this that Townsend is much more willing to come inside and vary his play. There is little end product in Lennon's chalkboard. He rarely gets into a dangerous position,  again, because his play is so monotone.
Andros Townsend, on the other hand, has many more tricks up his sleeve. He could very well come inside for a shot, he could play a reverse ball or pass it off to Eriksen (or whoever happens to be the trequartista on the day) or pass it to either of his full backs. Or he could burn the fullback and go to the byline and cross. Just because he can. His options are vast in comparison to those of a traditional winger an Aaron Lennon.
Inverted Wingers in action
The example that prompted this article came against Norwich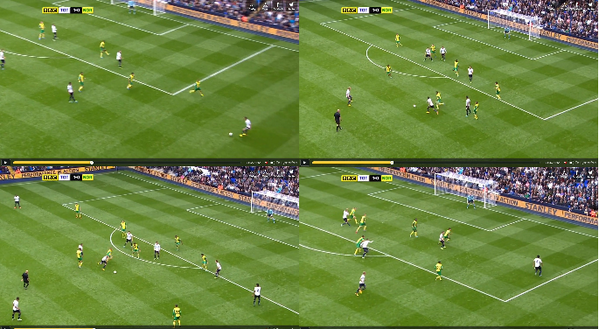 The picture is ordered left-to-right & top-to-bottom.
In the first slide, we can see Norwich have a rigid backline. There seems like there is no immediate way through and certainly if Townsend went to the byline one of Michael Turner or Sebastien Bassong would cut the ball out.
In the next slide, we can see Townsend coming inside and opening up space that will be exploiting later.
In the third slide, we can see Leroy Fer, Bradley Johnson and Javier Garrido have all been dragged inside by Townsend's incisive run. Paulinho is left in acres of space that would have otherwise been occupied by Garrido.
Eriksen passes to Paulinho and the rest is history.
It isn't even that Townsend is greatly better than Townsend. He's not but the manner in which Townsend plays in greatly advantageous for any team. His driving runs for the heart of an opposition's defense open up gaps that others can exploit.
For this reason, Townsend is a starter over Lennon
Don't get me wrong, I think Lennon has an important role to play. I'm salivating over him coming off the bench but i think he is a bench player this season.